Catania Rental car - cheap car hire in Catania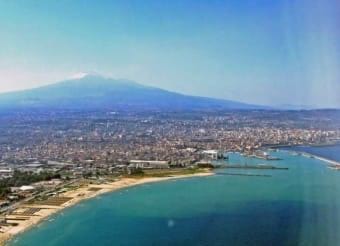 Sicily is a wonderful area to explore and Catania is one of its major wonders, as well as a great starting point for explore it.
History and charm of Catania
Catania is the second largest city in Sicily after Palermo, located at the foot of Etna, overlooking the Ionian Sea It extends on the Plain of Catania, one of the most extensive arable areas of Sicily. The city was founded by Greeks in 730 BC and in the course of its history has known more dominations, that have marked its architecture and structure, including the present harmonious mix of many cultures. There are many things to visit in Catania, the first of its oldest part, dating back to Roman times, with the monuments of great interest such as: Roman Theatre, the Odeon, several spa facilities and a necropolis. The medieval and Renaissance part have numerous churches and perfectly preserved ramparts, while that baroque expresses all the splendor which the city enjoyed a great wealth: at that date from the Cathedra of Sant'Agata, the palace of the Elephants and many other churches.The center is run safely on foot, but to visit around of the city would be appropriate to use a car you can easily book through RentalUp.This portal offers the possibility to rent a car in Catania as in the rest of Sicily, the comfort of home using the menu on the site, just enter the date of pick up and return and you have access to all car rental, divided by price and features that for the vehicle. There are also solutions for low cost rental car at the airport of Catania and vehicles from 6 to 9 seats, especially use for groups who want to explore the area without sacrifice the pleasure of traveling together.
The beautiful location of Catania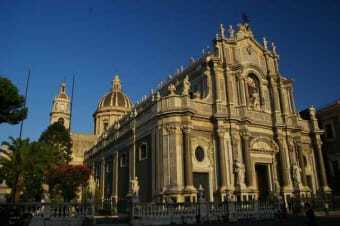 Starting with the rented car from Catania, in addition to Etna and theGardens Naxos, unmissable places located a few kilometers, you can drive southwards to the beautiful and historic Siracusa, and then you can go southwards again to the most south point of Sicily, Portopalo di Capo Passero, visit the inland areas that offer the city in which time seems to stand still: as the Baroque and Modica, spectacular views and fine wine in the area of Avola, land of the famous Nero d'Avola, and the beautiful wildlife reserves such as Vendicari and Cavagrande .Northwards is possible to visit Taormina, a small seaside town with spectacular scenery and home to a famous greek theater. In the end by Messina you can watch the lights at sunset on the other side of Calabria.